Sell More with Multiple Sales Channels
Never limit your reach to different type of customers
Already using EasyStore? Enable sales channel
Why You Need Multiple Sales Channels
Due to the highly competitive market of ecommerce, consumers are having a wide range of shopping options available online. It only makes sense for businesses to reach these consumers across multiple sales channels.
Generate repeat sales
EasyStore allows you to build relationships with customers and generate more repeat sales. Communicate directly with them via email, Messenger, or WhatsApp. Keep them coming back with reward credits and promotions.
Sales Channels in EasyStore
Online Store
Make your brand stand out in the digital crowd. Our easy-to-customize template turns your idea into an online store with a custom web address. EasyStore supports dozens of payment providers and methods with a multi-currency shopping cart to sell to your customers around the world.
Facebook
Allow customers to make self-purchase on Facebook. One-click builds your Facebook Shop by syncing product catalog from EasyStore. Auto-update your business with complete product information, inventory, and orders within your EasyStore dashboard.
Facebook Live
Instantly accept more orders during your Facebook Live stream. Your customers will receive a purchase link via Messenger once they comment on your Live. EasyStore will collect orders in the backend and retrieve the order details for you. Every sold item will be reflected in your inventory.
Messenger
EasyStore helps boost sales conversion on Messenger. EasyStore allows you to create a menu or chatbot which auto-reply customers first-level inquiries. It simplifies their buying decision process. They can receive order confirmation through email and Messenger.
Instagram
Get discovered by Instagram shoppers who are searching for similar products. EasyStore Facebook Marketing helps to speed up the process of enabling Instagram Shopping. Tag your products to create shoppable posts and stories. How to skip the lengthy verification process? Use our Bio Shop to instantly create an Instagram alike store.
WhatsApp
Convert your WhatsApp conversation into sales. EasyStore WhatsApp Order Form helps to collect payment and gather customer information. It is a secured form that shows your products' name, price, and photos. The familiarities of WhatsApp interface encourages your customers to buy the products straight away.
LINE
Take your sales conversion from LINE chatroom. Let customers view your products in a chat through EasyStore LINE Order Form is a secured form that shows your products' name, price, and photos to reduce the time-consuming shopping procedure without having to visit a separate website.
WeChat
Attract more customers on WeChat moment. Share your EasyStore WeChat Order Form on the moment to encourage your customers to buy the products straight away. It shows your products' name, price, and photos to let them browse and shop your products without leaving WeChat.
Shopee
You can sell more than Shopee on multiple sales channels. We provide centralized management of order, product, and inventory for Shopee and other selling channels. You can set a different selling price to sell on Shopee. Utilize our bulk action on order fulfilment and airway bills printing.
Lazada
You can sell more than Lazada on multiple sales channels. EasyStore supports syncing products and adjusting different selling price on Lazada. We centralize your order, product, and inventory management for Lazada and other sales channels. You can bulk fulfil orders and print airway bills.
Google Shopping
Reach potential customers that may look at your competitors. Google Shopping in EasyStore is built to speed up your Google ads setup process. One-click to sync your product catalog to Google Merchant Center, instead of doing it separately. You can track your product approval status in EasyStore anytime.
Point of Sales
Allow your business to accept orders anywhere with EasyStore POS. It is a native mobile application that record customers' data, order details, and product inventory across all selling channels. You can easily find a product by scanning the barcode and print receipts through Bluetooth connection.
Referral Program
Encourage more people to promote your products with referrals incentive in EasyStore. You can set up different commission tiers for different referrals groups by rewarding them cash, coupon code, or store credit. Auto-track each sale brought by your referrals in your EasyStore dashboard anytime.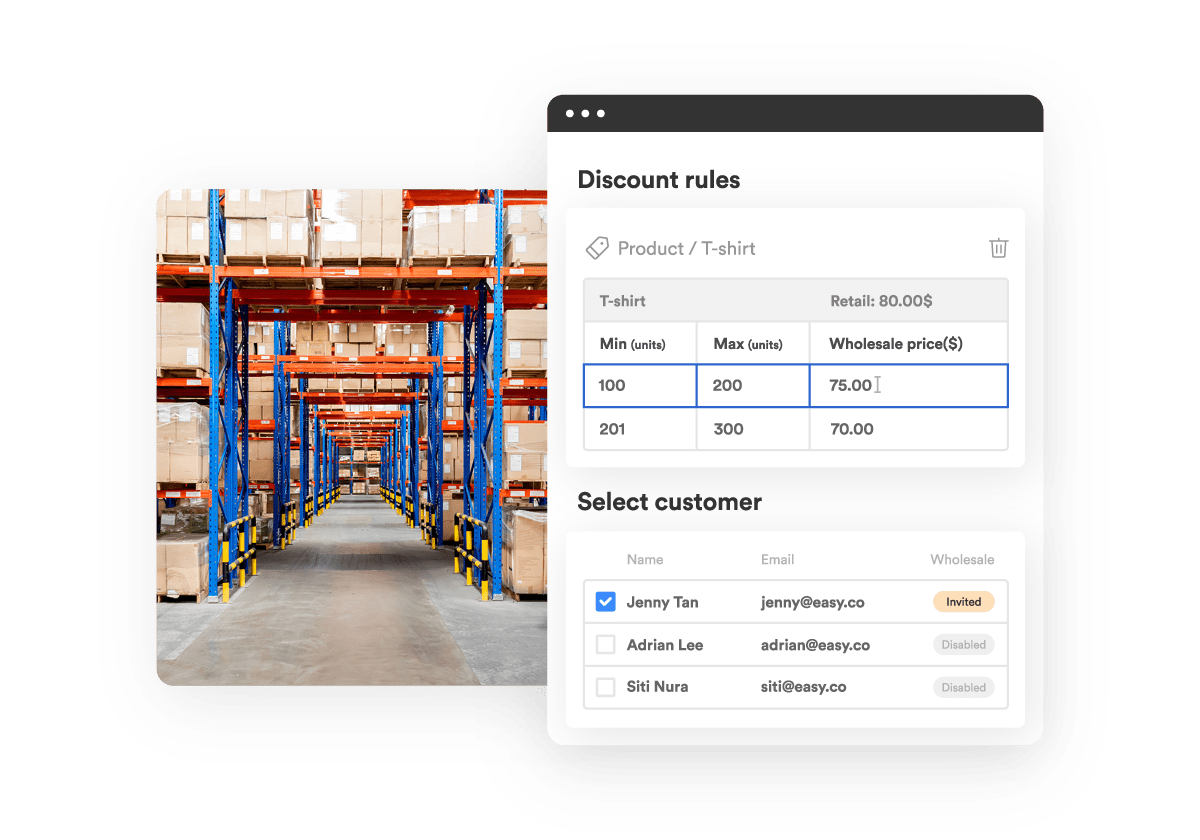 Wholesale Portal
Let your business welcome large order volume customers. EasyStore Wholesale Portal is a password-protected portal which only accessible by invited customers. You can customize different price list that tailored to your different customer groups.
How It Works
Connect your business with any sales channel in EasyStore helps you take advantage of automation to manage products, orders, and inventories for multiple sales channels.
Inventory sync

Managing inventory across multiple sales channels is challenging for your business. We help to sync product inventory across all sales channels, preventing from overselling or underselling.

Product details update

Updating product details is often a hassle. In EasyStore, any changes made to the products will be updated across all of your sales channels, providing a centralized system for product management.

Collect customer information

Collecting customers information is important to your business growth. We help recording all their information and shopping behavior. Fully control over all of it to build customer relationships.

Order status update

In EasyStore, you can directly process your orders from all of your sales channels in one dashboard. In providing a positive experience, your customers will be notified whenever there are any updates on the orders.

All sales channel reports

Your overall business performance helps you to allocate budget better. EasyStore's straightforward reports show the highest-earning channels and customers' buying behaviour to setup your retargeting marketing campaigns.
---
Working with EasyStore has allowed our online business to innovate and thrive since day one. We build our branding website, at the same time expand our sales channels to WhatsApp, Facebook, Instagram. Shafiqah Shafie and Iylia Fahmi - Founders of Pinkboxcereal