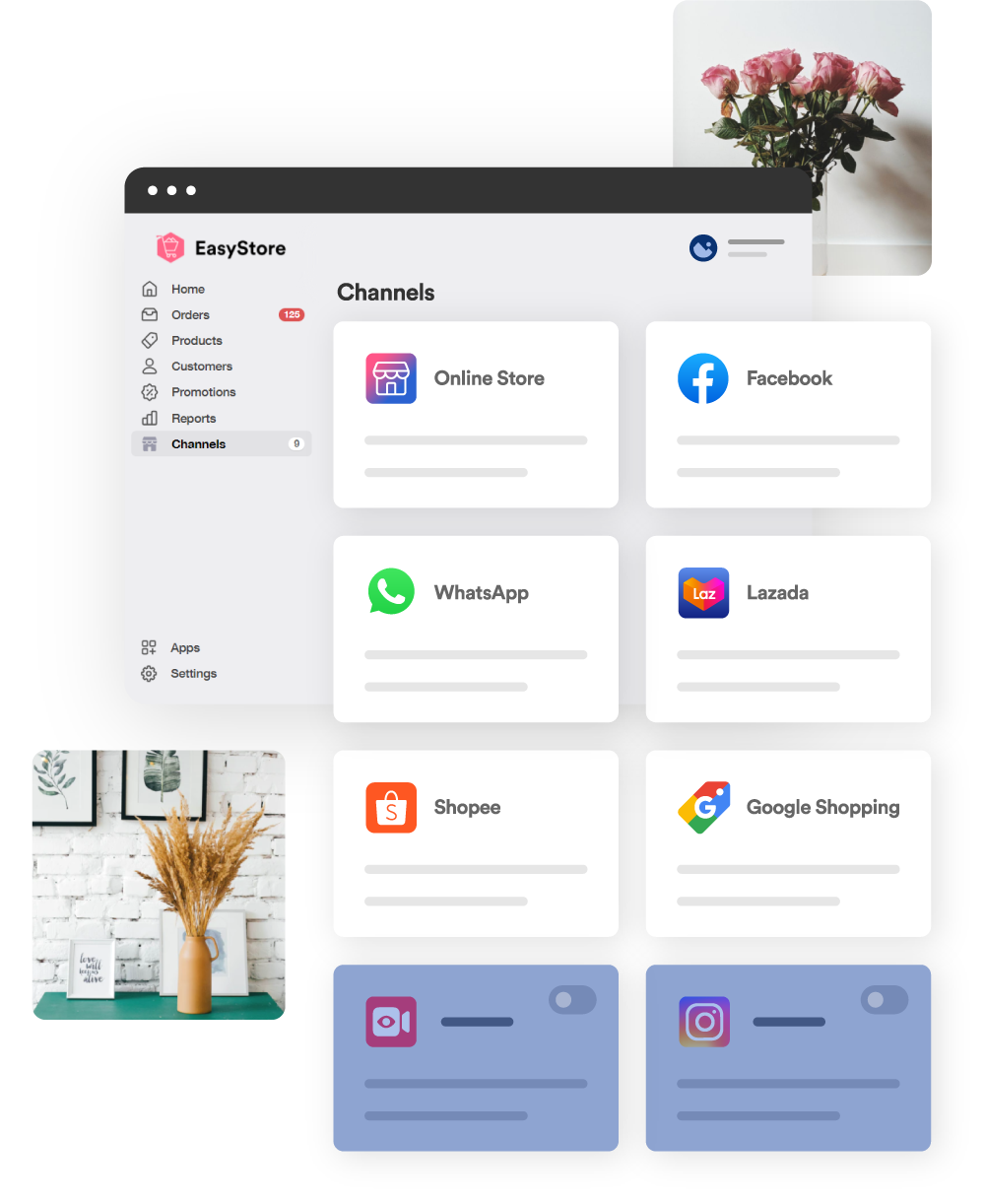 All-in-One Solution To Sell on Multiple Sales Channels
Every feature you need for a successful ecommerce business
Online Store
Facebook
Messenger
Facebook Live
Google Shopping
Instagram
WhatsApp
LINE
WeChat
Telegram
Shopee
Lazada
TikTok
91APP
Point of Sale
Wholesale Portal
Marketing
Discount and promotion

You can run various types of promotions like discounts, free gifts, purchase with purchase (PWP), reward credit and more. Set promotion with limited time to create a sense of urgency.

Voucher code

Your customers can enjoy the promotion with voucher codes. It can apply to logged-in customers, specific customer groups, or public to provide a sense of exclusivity to your customers.

Reward credit

Motivate your customers to buy more and encourage repeat purchase with EasyStore's reward credit. You can set the minimum purchase requirement for them to earn the credit.

Email marketing

Constantly engage with customers via email marketing helps you to build long term customer relationships. All customer information is real-time synced to your preferred email marketing platform.

Search engine marketing (SEM)

EasyStore is a SEO-friendly platform that allows you to edit business SEO such as meta title and meta description. You can also sync products to Google Merchant Center to run Google ads.

Marketing blog

Up your marketing strategies game with blog content. EasyStore allow you to enrich your blog content with the ability to add video, image, text, table, backlink, and author name.

Social media marketing

EasyStore lets your business stay relevant on Facebook, Instagram, WhatsApp, Youtube and more social media platforms. Your contents are shareable by customers across the internet.

Product recommendation

EasyStore's product recommendation feature helps to increase your customers' average order amount. We will recommend relevant products to them when they are browsing a product.

Referral Program

The referral program allows you to promote your products with the power of Word Of Mouth. You can reward different referrals groups with cash, coupon code, or store credit.
Order Processing
Order sync

All sales channels orders will be synced into EasyStore backend. You can sort out the orders by channels and manage them in bulk. Customers information is also collected upon orders placed.

New order notifications

Speed up your order management efficiency with our real-time notifications. You will get notified on new orders through email, mobile push notifications, and backend popup alert.

Packing slip

Our packing slip helps you to avoid human errors during the order packing process. It includes the product's name, price, quantity, and SKU, Barcode to help you pack the orders correctly.

Order fulfillment

Save your time by using our bulk fulfill tool. Your customers will get notifications once their orders are processed. Airway bills are auto-generated when using our shipping partners.

Order status update

You can keep your customers updated with their latest order status. From payment confirmation to order shipment, they will get the notifications on every action made to their orders.

Order cancellation

Orders that not paid on time will be automatically cancelled and we will help you to restock the product inventory. You can decide on the order cancellation period, from 3 days up to 365 days.

Abandoned carts recovery

We help you to bring back customers that never complete their purchase. Their information will be collected and you can choose to turn on auto-reminder to follow up with the potential customers.

Refund payment

You can record refunded orders and restock the products. You can even choose to refund by store credit. Our payment partners, iPay88 and RazerPay, allow instant refund via EasyStore.
Product Management
Inventory Sync

All sales channels inventories are synced into EasyStore backend. The inventory will be updated across all channels once a product is sold. Save your time by using our bulk inventory management.

Product Collections

Group relevant products together so your customers can easily browse and find the product they want. The product collection's SEO is editable to improve your product Google ranking.

Product Bulk Editor

A one-page editor that allows you to amend your selected products at once. You can select the details you want to edit such as price, inventory, SKU, etc., to be more efficient in updating your products.

Product Options and Variants

EasyStore allows you to create multiple product variants. You can upload image and set different prices for each of them. Customers can choose their preferences from the product options displayed.

Product Scheduling

Use our product scheduling to align with your marketing activity timeline. Your unready products can be saved as draft and discontinued products can be unpublished to avoid overselling.

Product Description Template

We help you to skip copy-paste actions in updating the description. Use our description template to apply the same content on all product pages or selected product collections pages.

Low Stock Alert

This feature helps you to make sure you're always aware of the product inventory count. You will receive low stock notification when your product inventory hits below a minimum quantity.
Customer Relations
Customer Information

Collecting customers information helps to understand their shopping habits. You can access to their details such as emails and contact numbers from all sales channels to build your customer relationship.

Customer Groups

Customer grouping can create exclusivity for your business. You can categorize your customers with similar shopping behavior into different groups and run separate targeted promotions.

Quick Message Broadcast

Instantly reach where your customers are active. You can send personalized message via SMS, email, and Messenger to the targeted customers at once. Only available in business plan.

One-click checkout

A seamless checkout that helps repeat customers to speed up purchase process. Once a customer purchases from you for the first time, the information is saved securely for future purchases.

Chat Box

EasyStore supports various chat box services for your customers to reach you. With built-in automation, you can provide auto-reply or live chat support to your customers' inquiries.

Customer Credit

Reward credit helps you to generate repeat sales and makes your customers stay longer with your business. Your customers can earn credits with every purchase they make with you.
Business Analytics
Sales Channel Performance

Effectively optimize your ads spend and performance based on the reports of your sales channels. You can filter each of your selling channel to review the performance insights.

Repeat Purchases Report

Focus on the right audience for your upcoming marketing strategies. The ratio between new and repeat customers helps you understand whether you should focus on new acquisition or remarketing.

Top-Selling Products Report

Allocate resources to promote the best performing products in your business. You can understand the customer demand on your products and focus on promoting them to maximize your sales.

Average Order Value Report

Increase each customer's spending on every purchase with you. Explore ways to upsell your customers adding more products into their shopping carts, such as purchase with purchase, product recommendation, and free delivery.

Website Traffic Report

Maximize your sales at the peak hour of your website. Monitor your real-time page views and website visitors number to run marketing events during the most active time of your customers.

Google Analytics

Improve your marketing ROI to reach the right target audience. You can track and evaluate the performance of your website based on behavior of visitors to optimize ads spend and website content.

Facebook Pixel

Effectively increase your ad conversion on Facebook and Instagram. This analytic tool helps you to gain awareness from targeted audience and retarget the potential buyers to convert them into your customers.
Start selling online for free